Profile HAI Secretary General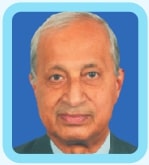 Mr. M.P.Bezbaruah
Mr. Madan Prasad Bezbaruah, retired as the Secretary, Ministry of Tourism,Governmentof India and was recently Member, North Eastern Council(in the rank of Minister of State).He is also honorary Permanent Representative of UN-WTO.
During his career he held many important national and international assignments like Commissioner and Secretary to the Government of Assam in the Departments of Education, Health, Industries, Finance and Home, Chairman of the Assam State Electricity Board, Minister (Economic) in the High Commission of India, London( spearheading economic diplomacy during the first economic reforms programme of the government), Principal Adviser in the Planning Commission of India, Banking Ombudsman for the Reserve Bank of India.
He was Chairman of RBI's Committee on "Ways and Means Advances to the States" and member of the RBI Committee on "Credit Deposit Ratio", a member of the Niti Aayog's "Niti Forum for the NE", and was also a Consultant to the National Development Planning Commission of Ghana. Recently he chaired the committee of the Ministry of Home Affairs on the concerns of the people from the North East, generally referred to as the 'Bezbaruah Committee'.
The World Tourism Organization appointed him as Honorary Permanent Representative "in recognition of the valuable contribution made to the development of tourism".He served for several years as member of the Strategic Group of UN-WTO and is the only Indian civil servant to be elected the Chairman of the Pacific Asia Travel Association (PATA)—the largest travel industry body in the world.
A recognized international tourism expert, he has authored the report on Indian Outbound Tourism for UN-WTO, a report on SASEC regional tourism and was National Consultant of ADB's SASEC Tourism Development Project, phase I and II, and UN-WTO's project on Development of Coastal Tourism in West Bengal and Orissa.
Mr. Bezbaruah has written three books- 'Indian Tourism: Beyond the Millennium", "The Guest is God-Reflections on Tourism" and "Frontiers of New Tourism" and is the Chief Editor of five volume encyclopaedia- "Fairs and Festivals of India" . He has also written book chapters in national and international books, written numerous articles in national and international magazines on tourism and on Northeast India and made presentations in many international conferences of UNWTO, World Bank, Canadian Tourism Commission, UNESCAP, International Peace Institute etc.
He secured a first class Masters degree in Economics from the Delhi School of Economics and obtained the Master of Public Administration (MPA) degree from Harvard University, USA.